Partnerevents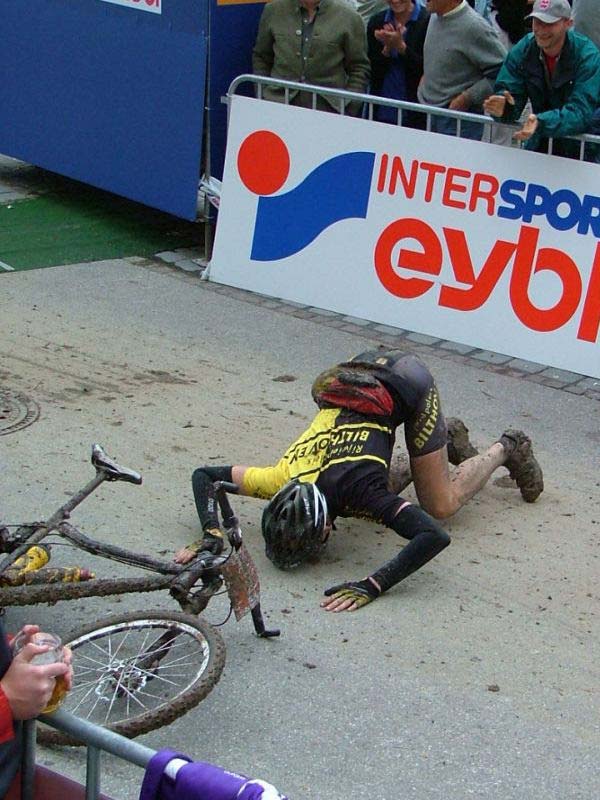 Fred van Zetten
By Fred van Zetten team www.rijwielpaleis.nl

During dinner after the "short" distance in 2003, i was talking to countryman Jan Weevers and we promised each other for 2004 to go for the real distance. 10 July 4 AM in the morning we meet again on the square for our breakfast. At that time it's dark, cold and wet. Although those conditions no way pulling back, getting back to bed and starting at the 100 km race later that day.
At 5 AM relaxed starting, but in less than 2 km the first sign of what hell supposed to be comes up with a steep climb which it partially slippery. Just thinking "don't force right now and its just 198 km or something like that ..."
The beautiful sight from the "Ewige Wand" is very disappointing, nothing but fog, but i will get a second chance. The first real down hill to Bad Goisern is plagued by lot's of mud an biking is impossible as i figured out after a narrow escape.
Later the race becomes very pleasant with 2 fellow countryman and we have a lot to discuss despite our racing goals. Entering the Rettenbach downhill to Bad Ischl i forget everything about being carefull in dowhills. This is something what only is possible in my wildest moutainbike dreams. Luckily no problems or narrow escapes and get back to Bad Goisern.
Back in Goisern (witch is a normal distance) in 6:46u get myself together for the second round witch promised to be very wet. It is starting to rain and becomes very very cold. After 1 hour I made the decision to pull on my rainjacket witch i had to do much earlier and now it felt like freezing dead. Never thought this belongs to a marathon in the summer, but this is why they call it hell and is not a ordinary marathon.
At the Blaa Alm my only crash this race and sliding 30 meters backwards on my back and must a been looked very stupid, but no wittiness here in " the end of the world".
Luckily after about 4 hours it's drying and even the sun begins to shine and i begin to feel I'am alive and believing that finishing will be no problem. The last hours is just biking without thinking, but enjoying the fact that the T-shirt will be mine.
After 14:37u the ultimate moment: finishing my longest race and overjoyed by happiness because i suffered hell and that is something no one will ever take that away. At that moment I even don't feel tired and just having fun.

Final thought: So if this is hell than I could be a nice place to live in the future and a special thank to all the volunteers who spend there time to make this possible.