Regulations
Regulations
The regulations of the Austrian Bicycle Association (ÖVR) apply to the Salzkammergut Trophy. When quitting the race, please sign out with the next marshal – under no circumstances pass the finishing line!

During the race any technical support and catering is prohibited, except the assistance by other participating bikers. At the service and refreshment stops assistance is only permitted if done by official assistants. At the Assistance Points (AP), shown on the course map, the participants may accept food/beverages, spare parts, clothing and tools as well as technical assistance from their team's crew.

Any crew member on the course with a motorized vehicle will cause his rider to be disqualified and be reported to the authorities!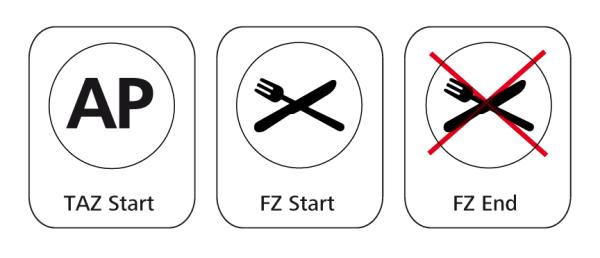 The beginning and the end of the "Feed-Zone" is marked by special signposts. No littering beyond this area! Those who litter along the race course or throw any waste into the ditches, woods or on meadows will be disqualified! (Attention! Those regulations are going to be supervised by marshals "disguised" as bikers. There will be no warnings.)  
Equipment
We recommend taking along the following bike gear:
2 bottle holders and 2 water bottles with 0,75 liter
2 mounting levers
2 spare tubes (long distances 3 – 4)*
1 repair kit
1 bicycle tire inflator or airgun*
1 small tool box including Allen key (seize 4, 5, 6)
1 chain riveter
1 some cash
1 altitude chart with emergency number (included in the starting kit)
1 rain jacket
1 small tube of sun lotion
plenty of PowerBar bars and gel

We recommend taking your mobile phone along; however please switch to a silent mode respectively vibrating alert!

* On the way, spare hoses are available at the five service stations for a price of 5 euros and CO2 cartridges for a price of 3 euros!


Tech Service Stations by Hervis and Bike-Check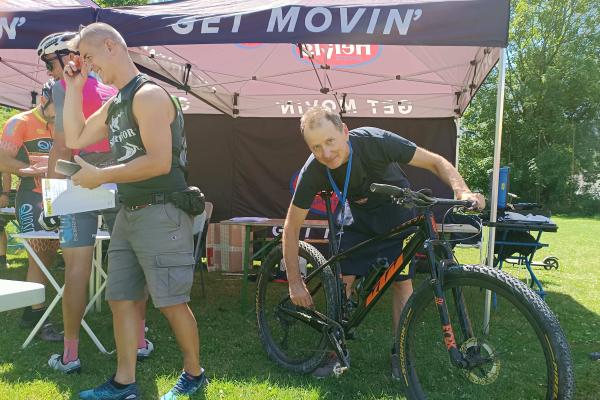 Especially the two long distances of the Salzkammergut Trophy are an extreme challenge for man and material. Therefore it is essential to have your bike checked in a special bike shop and also to renew the brake pads before arriving in Bad Goisern.

Along the courses there are five service stations where skilled mechanics from Hervis support you efficiently in case of "small" problems like adjusting the brakes or gearshift - and "Dr. Wack F100 Kettenöl" lubrication guarantees that everything will run smoothly! All other repairs can be only done upon availability; spare parts have to be paid by the participant immediately.  

Participants of course A have to take their bike to a bike check-up before collecting their race number. Checked are only safety-related parts like brakes, bottom brackets, handlebars, headset, and condition of the wheels, frame, chain and fork. If you pass the check you receive a test report which needs to be handed in at the race number distribution. Attention! Bikes are not going to be repaired during the check-up! For repairs the expo offers some Service Stands, however their capacities are also limited. Please pre-check your bike at home if possible by one of our Trophy Bike-Check-Partner.

The bike check can be found behind the ballroom in Bad Goisern and is open on Trophy Friday from 12 p.m. to 7 p.m.

In course of the check up we would like to collect a few statistic data. What percentage is the 29er? How many percent trust in Shimano, how many in the components of SRAM? What are the most popular bike brands and are the Fully bikers already the majority?
 
Start Line Up
Salzkammergut Trophy July 15, 2023
The starting position in the blocks results from the biker's self-assessment.

Course A
05.00 am (one starting block)

Course B
09.00 am starting block 1 (riding time less than 7 hours and 15 minutes)
09.05 am starting block 2 (riding time less than 8 hours and 45 minutes)
09.10 am starting block 3 (riding time more than 8 hours and 45 minutes)

Course C - Start in Obertraun!
10.13 am gravel-marathon
10.15 am starting block 1 (riding time less than 4 hours and 30 minutes)
10.18 am starting block 2 (riding time more than 5 hours and 30 minutes)
10.21 am starting block 3 (riding time more than 5 hours and 30 minutes)

Course D - Start in Bad Ischl!
12.15 pm (one starting block)

Course E
11.00 am starting block 1 (riding time less than 3 hours and 15 minutes)
11.05 am starting block 2 (riding time less than 3 hours and 45 minutes)
11.10 am starting block 3 (riding time more than 3 hours and 45 minutes)

Course F
11.50 am starting block 1

Course G
12.15 pm starting block 1
12.20 pm starting block 2 (unicyclists)



Watch out for Bike Thieves!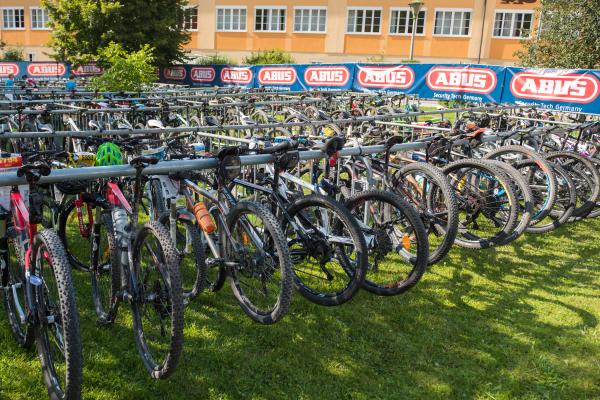 Unlike many other mega bike events, there were hardly any bikes stolen during the Salzkammergut-Trophy! This is mainly due to intensive monitoring and awareness training by the police as well as the alertness of our participants.

Please make sure that you note the brand, model and the frame number of your bike respectively issue a bike pass at the Federal Criminal Police Office before arriving in Bad Goisern! On site, the bike may be deposited at the ABUS Park Fermé. The depot is open on Saturday from 01.00 pm until 10.30pm.

An ABUS security station is available at the start number distribution in front of the entrance to the elementary school, but it is not guarded! Bicycles can be parked in this "bike parking lot" and locked yourself. If you don't have your own lock, you can rent an ABUS Ionus 6800 at the information stand for a deposit of 25 euros.

For further advice on protecting yourself against bike thieves, please see this information!