Newsletter
Trophy Newsletter Topics

+ Already 1.500 registrations
+ Register at a reduced rate until the end of March
+ Junior Trophy - Start in the center
+ Syncros MarathonMan Series – Free Jersey
+ UCI Marathon WC on 26th of June 2011 in Montebelluno
Register Now!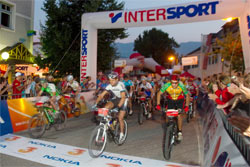 Currently more than 1.500 participants have already signed up for the Trophy on July 16, 2011. The number of participants has already reached the same level which we had 7 weeks before last years' event! It seems that the Trophy will be completely booked again. On the 211 and 72 km distances more than 50 % of the starting places are already booked. On the 119 and 54 km course we have reduced the starting place by 200 each compared to 2010, currently there are only 1/3 of them taken. However we would ask you to register as early as possible! Those who register and pay until the end of March, save additional 5 Euros!



registration
Junior Trophy 17th of July
Start in the Town Center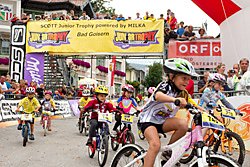 This year for the first time all categories of the Junior-Trophy will start in the center of Bad Goisern! The last inspections and negotiations are still ongoing; however the relocation of the Junior Trophy competition is for sure! This makes it easier for parents with two or more children. The courses are going to be somewhat easier making it less demanding for our rookies. In any case it will be more exciting for our youngsters! Just like the participants of the marathon the kids and youngsters are going to start in the centre of the market square in Bad Goisern!

registration
Syncros MarathonMan Series - Free Jersey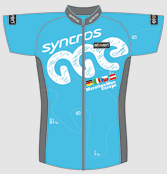 The 2011 season opening of Europe's biggest Mountain Bike Marathon Series is at the end of April. The high-quality Jersey by Eleven Sports is for free already with three starts! However precondition is an early registration until mid of April. In addition to an early entry until April 15, 2001 one benefits from a substantially reduced entry fee. The participation in three marathons including the sought-after souvenir is only 109,- Euros.

announcement

registration
Dates:
30.04.2011 Rocky Mountain Bike Marathon, Garda Trentino (ITA)
12.06.2011 Rocky Mountain Bike Marathon, Willingen (GER)
18.06.2011 Malevil Cup, Jablonné v Podještedí (CZE)
16.07.2011 Salzkammergut Trophy, Bad Goisern (AUT)
07.08.2011 Erzgebirgs-Bike-Marathon, Seiffen (GER)
Unsubscribe Newsletter
If you do not wish to subscribe to our free newsletter anymore, please send us a return mail with the subject "no more newsletters" or just click on the unsubscribe link. Thank you!