Newsletter
Click here, if the newsletter is not correctly displayed
Trophy Newsletter Topics:


+ Already more than 3.500 registrations - 76,5 km distance fully booked
+ Tip: swim marathon on July 28
+ Course maps online
+ Unicycle-Downhill July 15
+ Preparation – course inspection from June 30 until July 1; technical training July 12
+ Lecture Absa Cape Epic on July 13 – attendance free of charge
+ Product presentation: Roeckl Marburg
+ Ö3-Disco as Trophy Warm-Up



INFO/ADS:
+ Intersport Coach-Tip
+ Genesis-Bikes
+ Innotech High Tech Chain-Fluid
+ Redvil Individual Team Clothes
+ AVE
+ MTB-Traditional Fashion


Salzkammergut Trophy 2012 on July 14 - sign up soon
Currently more than 3.500 participants have already signed up for the Trophy on July 14, 2012! The course C is already fully booked. On the extreme distance about 100 starting slots are still available, on the other distances 2/3 are already taken.
When registering and paying before July 4
th
participants will receive a personalized starting number. Registration is possible upon availability until a few days before the event. No late entries on site! The status of registration may be checked on our homepage.
Team-Rating :
As of three participants it is also possible to register as
club or company team
. At the Trophy
Slow-Motion rating
all times of the participants will be added. Those teams who have been biking the longest in total, win prices worth more than 20.000 Euros!
info@trophy.at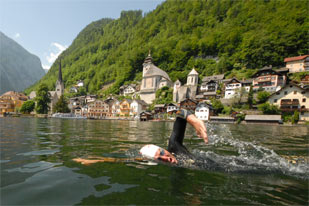 Swim Marathon on July 28
On Saturday the 28th of July the "2nd Hallstatt Lake Swim Marathon" will take place in the Inner Salzkammergut. The 9 km extreme distance starts at the Strandbad Untersee in Bad Goisern leads along the picturesque scenery from Hallstatt to Obertraun.

New this year: a "short distance" of 2.1 km as well as a skill-based swimming contest for children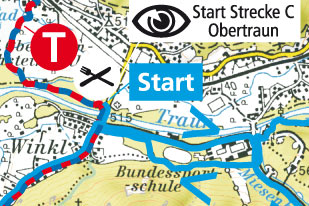 Course Maps online
The start loop of the C-distance has been extend somewhat, in order to further open the starting field biking towards Hallstatt avoiding "jams". The course is now 76.5 kilometres long. From July 6th on the course will be signposted for the most part and open for training. However sections marked with a white doted line in the course map may be only biked on the race day!


Muni-Downhill on Sunday July 15, as of 03:15 pm
Besides the Muni Marathon, which takes place on the 22.1 km course as part of the Salzkammergut Trophy on Saturday, there will be an unicyclists' downhill race for the fifth time this year. The mass start for this spectacular contest takes place at the Berghotel Predigstuhl and will be rated also as Austrian Championship. More than 100 daredevils will tackle the 4.1 km downhill with 500 meters change in altitude along hiking tracks and on the former toboggan run!


Unsubscribe Newsletter
If you no longer wish to receive promotional information from us, please click below to unsubscribe.