Information
Muni-Downhill July 12, 2019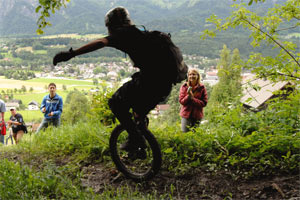 | | | |
| --- | --- | --- |
| Start time | Categorie | Age-group |
| 06.00 pm | Elite Men | 2004 and older |
| 06.01 pm | Elite Women | 2004 and older |
| 06.02 pm | Men AK1 | 2004 - 1980 |
| 06.03 pm | Women AK | 2004 and older |
| 06.04 pm | Men AK2 | 1979 and older |
| 06.05 pm | U15m | 2007 - 2005 |
| 06.06 pm | U15f | 2007 - 2005 |
| 06.07 pm | U12m | 2008 and younger |
| 06.08 pm | U12f | 2008 and younger |
Venue:
Mountain hotel Predigstuhl
Equipment/Regulations:
+ No running!
+ The unicycle must be pushed when walking!
+ The wearing of a helmet, gloves and knee pads is obligatory!
+ Only Munis without transmission (gear) permitted!
+ The regulations of the International Unicycle Federation (IUF) apply!
Entry Fee:
10,- Euro when transferring the amount before May 1st.
15,- Euro when transferring the amount after May 1st or when paying cash on site.

Bank Account:
VKB Bank Bad Ischl
BIC: VKBLAT2L
IBAN: AT11 1860 0001 1302 2900

Account Holder:
Mountainbike Club Salzkammergut, Obere Marktstraße 1, A-4822 Bad Goisern

Reason of payment:
The names of all participants, date of birth as well as participant's ID. The total amount must be transferred within three days to our account.

Race Number Distribution:
Friday from 01.30 pm until 05.00 pm at the Volkschule

Registration deadline:
All participants who register and pay the entry fee online before June 28th receive a personalized race number. Depending upon availability it is possible to register for the individual age groups one hour before start. Late entries after June 28th will be disregarded in the starting grid!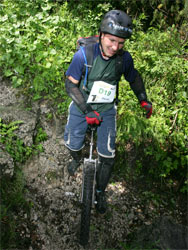 Shuttle-Service:
Thursday 05.30 pm until 06.30 pm (Training)
Friday 08.30 am until 09.30 am and 12.30 pm until 01.30 pm (Training)
Friday 04.30 pm until 05.30 pm (to the start)

Departure: Parking Space "Goisern Mitte". For participants of the Unicycle-DH for free.

Showers:
Shower facilities are available in the high school – "Neuen Mittelschule" (HS1) from 06.30 pm until 08.00 pm.

Distribution of the Participant T-Shirts:
Saturday from 01.00 pm until 10.00 pm and Sunday from 10.00 am until 03.30 pm in the Volksschule. The voucher of the Trophy T-Shirt is in the starting package. No voucher no t-shirt!

Winners' Ceremony/Prizes:
At 07.45 pm in the grand pavilion in the center. The top three of each category receive great trophies!

The ÖM Rating is only for participants with Austrian citizenship. Medals are waiting for the three fastest Munis!

For the whole schedule please see www.trophy.at/programm


Information and accommodation:
Dachstein Salzkammergut tourist board
Kirchengasse 4, 4822 Bad Goisern
Tel.: +43 (0)5/95095
E-Mail:

Registration:
www.trophy.at/registration

Information provided by this website is subject to change by the organizers! All changes will be updated on our homepage and if necessary announced at the bikers´ meeting. The organizer has the right to refuse participation in the Salzkammergut Trophy without giving reasons!