Newsletter
Trophy Newsletter - Content
A New Year, a New Course!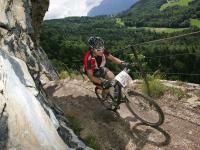 209 km - 7000 change in alltitude - one lap

The Salzkammergut Trophy - Austria's biggest MTB Marathon - celebrates its 10th anniversary on July 14, 2007. On this occasion the "original course" will be signposted through out the whole "Inner Salzkammergut"!

The first half of the extreme distance runs from Altaussee to Bad Ischl and back to Bad Goisern. It remains almost unchanged and is therefore identical with the UCI Marathon WM course of 2004.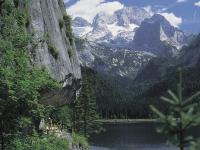 However, instead of a second lap the course will continue again through Obertraun, Hallstatt und Gosau like in the years from 1998 until 2003. There will be also some totally new legs as for example the new build bikeway along the East bank of the Hallstätter lake as well as a new bike passage between the Hallstätter Salzberg and Rossalm towards Gosau so it's not necessary anymore to carry one's bikes.
The course leads through the UNESCO World heritage region Hallstatt-Salzkammergut - one of the most unique and spectacular areas in Europe. Highlights of this course are the Dachstein Mountain ridge and the track through "the Ewige Wand" - the Eternal Wall.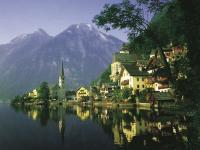 The Trophy B-distance has been now completly relocated to thenew course and is going to be about 110 km long. The well established27km and 53km short courses remain unchanged.

For downloading the map of the new courses please see the Trophy homepage. Registration is already possible!

We are already looking forward to your participance and wish you all the best for 2007!

Your Trophy Team

The Salzkammergut Trophy is also in 2007 part again of the Merida 100 Marathon Series! Last year the "Merida 100 Marathon" came in sixth at the Slow Motion Team Rating.

Registration for the Salzkammergut Trophy is also possible with the Merida 100 Marathon office.

Contact:
Michael Wilkens
mjw marketing ltd.
7 Edward Road, Arnos Vale
Bristol BS4 3ET
+44 (0) 117 9040139
michael.wilkens@blueyonder.co.uk


Merida 100 Marathon Series 2007
Builth Wells (Wales) - Spring Marathon / Exposure Lights Big Night Out (Night Marathon): 14 - 15th April
Penrith (Cumbria - Cumbria Bike Fest): 12 - 13th May
Aviemore (Scotland - The Outsider): 22 - 24th June
Builth Wells (Wales): 7 - 8th July
Bad Goisern - Salzkammergut (Austria) - Merida Bikes MTB Marathon Series 'on holiday': 14th July
Selkirk (Scotland): 4 - 5th August
Ruthin (Wales): 15 - 16th September
mtb-marathon.co.uk

Trans Salzkammergut - New Map
The mounatin bike trail running from the South to the North of the Salzkammergut offers a track spiced with breath-taking mountains and crystal clear lakes. A challenge for all die-hard bikers including hefty bike carrying passages as well as overnight stays in cosy cottages. Welcome to the new Trans-Salzkammergut Mountainbike Grand Tour presenting four tough legs going from Bad Mitterndorf in Styria to Gmunden in Upper Austria. Experience the scenic as well as sporty highlighs like Grundlsee, the Ewige Wand (eternal wall) above Bad Goisern and the Gamsöfen. Starting at 282,-- Euros per person the Grand Tour includes five overnight stays in hotels, cottages and B &Bs, maps, luggage transfers, a daily bike service or if needed a break-down service.

As an alternative the Trans-Salzkammergut offers also a circuit (209 km, 5294 Hm) with three legs starting at Euro 122,-

Information and Booking:
Salzkammergut Touristik, phon.: +43/(0)6132/24000-75, www.transsalzkammergut.at

Map orders:
Tourismusverband Inneres Salzkammergut, Kirchengasse 4,
A-4822 Bad Goisern, E-Mail: info@trophy.at
Tel.: 0043-6135/8329


Hot off the press - MTB Catalog 2007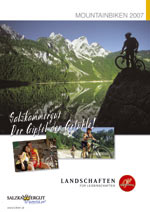 For tour bikers the Salzkammergut offers more than 1.200 signposted MTB tracks, more than 70 crystal clear lakes und numerous of cosy cottages where one has to drop by! Enjoy all the advantages of the mountain bike center Salzkammergut in the new catalog "Mountainbiken 07". Since there is a great co-operation among numerous hotels and B&Bs, the Salzkammergut is able to provide an optimal and area-wide service and also check out the wide range of the all-inclusive bike-fun. Just combine sport and grand local food when doing the "gourmet-biking in the Salzkammergut". Three overnight stays including breakfast, three gourmet evenings, luggage transfer, mountainbike map and tour description starting at Euro 229,-- per person.

The catalog is available in German or English and for free! Just send an e-mail or call

Oberösterreich Tourismus Information,
Tel.: +43/(0)732/221022, www.biken.at
info@trophy.at

Unsubscribing the Newsletter
Since March 1, 2006 we are not allowed according to the § 107 Telecomunication Law (TKG) to send commercial e-mails without prior agreement of the recipient. So far you made the information on your contact public respectivley received already some e-mails and also didn't object. Therefore we assume that you still would like to be informed by us in future. However if you wish not to receive our offers, we would kindly ask you to send us a reply under the subject "no more e-mails" or to click the unsubscribe link