Newsletter
Trophy Newsletter Topics
+ Salzkammergut Trophy July 12, 2008
+ Merida Bikes MTB Marathon Series
+ Cheap flights to Salzburg (SZG)
+ For the first time DNF T-Shirts!
+ Course maps 2008 online - no more jams!
+ Kellys MTB Test Center
+ Bike Park Arikogel in Bad Goisern-Untersee
+ MTB Center Salzkammergut - new catalog 2008
+ Dachstein Track

www.salzkammergut-trophy.at
office@trophy.at


With more than 3000 participants from 25 nations the Salzkammergut Trophy is Austria's biggest MTB marathon. The big loop leads through the UNESCO World Cultural Heritage Region Dachstein-Hallstatt and is regarded as one of the most spectacular marathon tracks in Europe! Besides four courses with various distances the participants may expect a great supporting programme - a Junior Trophy, bike safety course for children, bike expo, pasta party, live concert, film presentation, and for the first time a downhill competition for unicyclists! Visitors may enjoy a helicopter shuttle service to the Hütteneckalm as well as live broadcasting in the finishing area and on the internet.

For further information: www.salzkammergut-trophy.at




Merida Bikes MTB Marathon Series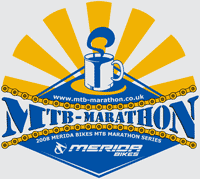 The Salzkammergut Trophy hosts for the fifth time already the Merida Bikes MTB Marathon Series "on holiday"!

Dates and venues 2008
Builth Wells (Wales) 12 - 13th April 2008
Ruthin (Wales) 24 - 25th May 2008
Builth Wells (Wales): 5 - 6th July 2008
Bad Goisern (Austria) 12th July 2008
Selkirk (Scotland) 2 - 3rd August 2008
Penrith (Cumbria) 13 - 14th September 2008
www.mtb-marathon.co.uk

In cooperation with our Travel partner 'Pro Travel' we offer agreat package deal for every biker taking part in this fantastic event. This is your chance to enjoy biking in the great alpine outdoors, to relish the outstanding hospitality and regional cuisine and above allto experience one of Europe's best mountain bike marathon events.
If you fancy making a slightly longer trip or maybe adjusting the level of accommodation just contact the above number or email and we will do ourbest to help.
For all those who would like tocombine their participation in the marathon with a holiday - the region offers numerous possibilities: bike tours for several days like the Dachstein circuit or the Trans Salzkammergut, but also a hiking vacation or swimming in crystal clear water of those beautiful lakes with or without your family is a great way of spending your holiday! www.protravel.at
Cheap flights to Salzburg (SZG)
There are many budget flight operators flying to Austria. These include:
from London (LGW)
www.britishairways.com
from London (STN)
www.ryanair.com
from Coventry (CVT)
www.thomsonfly.com
from Manchester (MAN)
www.thomsonfly.com
from Dublin (DUB)
www.ryanair.com
There are also some extra charter flights available:
All flights go out on Wednesdays and can only be booked via
www.inghams.co.uk
Birmingham BHX (Thomsonfly)
Bristol BRS (Austrian Group)
Dublin DUB (Futura Gael)
London LGW (British Airways)
Manchester MAN (Thomsonfly)
Newcastle NCL (Thomsonfly)
DNF T-Shirts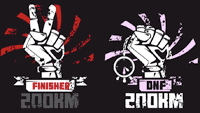 The black T-Shirts for the finisher of the 208,7 kilometer extreme distance have already a long tradition at the Salzkammergut Trophy. However this year for the first time we also offer DNF T-Shirts in two different versions!

The stopwatch symbolizes that a participant was either not able to meet one of the three time limits or the time limit of 16 hours was exceeded.

All bikers who have to quite the race due to a defect receive a DNF T-Shirt with a screw wrench. Saving at least their biker's honour.

registration number: [kdnr]


Registration


Trophy Homepage 2008



course maps 2008 online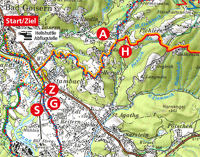 Please see www.trophy.at/strecke for the new course maps in PDF file. In addition all distances are available as GPS-Track in TRK, TXT and TK formats as well as Google Earth data for free downloading.

The course of the shortest distance has been changed completely! On the one hand the downhills were to difficult for beginners and unicyclists, on the other hand the overlapping with the other four distances partially caused a jam around the Ewige Wand - Eternal Wall.

The three other courses remain the same. However there is a change now regarding the starting times which means there will be no more overlapping of the B and C course at the bottleneck of the Ewigen Wand.

Last year between 12.40 and 12.50 324 bikers were counted at this point. 1.600 bikers have passed this point between noon and 1:00 pm! With the new starting times the peak will be reduced to 914 bikers per hour! A further advantage will be that equal strong bikers will enter the single trail to the Ewigen Wand.

No more jams!
For more details how the changing of the starting times will effect the field, please see the two PDF files available for all 2007 participants.
Kellys Test Center - Rent a bike!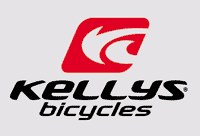 Beginning of May the first MTB Test Center opens in Bad Goisern presenting exclusively the US brand "KELLYS-BICYCLES". Besides the Fullys Toxic, Wandal and Beast the Carbon-Hardtail Mobster as well as the two top bikes Hacker and Raptor in the usual frame sizes are ready to be tested.

The rent for this special weekend is cheaper than the freight chargers of most airlines! There are about 40 bikes available between the frame seizes 17" and 21".

Prices:
Kellys EUR 32,- per day (about 23,- GBP)
Merida und KTM EUR 16,- per day (about 12,- GBP)

Contact:
MTB-Testcenter Salzkammergut
A-4822 Bad Goisern
mtb-testcenter@gmx.at
www.mtb-testcenter.at
phone: +43-664/4609595



Bike Park Arikogel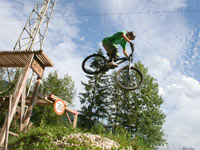 In Bad Goisern-Untersee there is a small Bike Park! No commercial facility including a lift, but a great exercise area established by the local bikers' scene around Florian Pöllmann and the community. This has been brushed up last year after some major construction work and is now available for any biker.

Those who would like to do a MTB tour are most welcomed to test the area improving one's technical skills. A real special is the so called "foampit" - a 6,50 times 4,50 meter big box filled with foam enabling painless experiments of various tricks! Furthermore there are great North-Shores, Dirts, Doubles and many other obstacles available.

If there is bad weather, the neighbouring town of Gosau offers a indoor technical training park on more than 600 square meters! > More Info





MTB Center Salzkammergut
New Catalogue 2008 - order now for free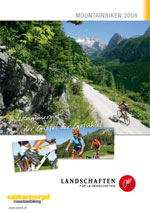 The Mountainbike Center Salzkammergut presents the attractions for the new season in the "Mountainbiken 2008" folder.

Highlights:
+ The best tours, bike hotels and lodges
+ New days tours like the Salzkammergut Schmankerltour
+ GPS-facility rental - many GPS-tour offers
+ Indoor Park for bike technique training
+ MTB Test Center
+ Unicyclists lessons
+ Bike technique training for beginners and pros
+ The most important events



order the catalogue in German
order the catalogue in English

For more information:
Oberösterreich Tourismus Information, phone: +43/(0)732/221022, www.biken.at




Dachstein Track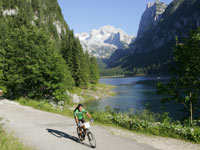 196 kilometres and 4,900 meters change in altitude
The Dachstein is the "boundary-post" of three federal states which means the course leads you through Styria, Salzburg and Upper Austria. The signposted course around this mountain landmark of the Salzkammergut is for sure one of the most spectacular tour of the Eastern Alps. The course leads from the town center of St. Agatha to Bad Aussee, along the Salza storage lake towards the Viehberg Alp, via Gröbming through the Enns valley to Ramsau, it continues to Filzmoos und Annaberg and via Gosau back to Bad Goisern. Ideal for sporty bikers in a three days leg.

The Tourism Service Salzkammergut offers a package deal including three nights, luggage transfer, a detailed description of the tours and Salzkammergut MTB Ticket starting at Euro 159,-

for bookings via phone: 0043-732/7277-281
Online booking

For those who want to plan their own tour may order from the Tourismusverband in Bad Goisern a chart (1:50000 scale) with detailed route descriptions, accommodations and a relief map at the price of Euro 5,- incl. shipping and handling.

For further information phone: 0043-6135/8329, E-Mail: goisern@inneres-salzkammergut.at


Newsletter Abbestellen
Seit 1. März 2006 dürfen gemäß § 107 Telekommunikationsgesetz (TKG) keine E-mails mehr zu Werbezwecken ohne vorherige Zustimmung des Empfängers, die auch darin gelegen sein kann, dass er seine Kontaktinformationen öffentlich zugänglich macht, versendet werden. Sie haben ihre Kontaktinformationen öffentlich zugänglich gemacht bzw. bisher schon mehrfach E-mails von uns erhalten und der Zusendung nicht widersprochen. Daher gehen wir davon aus, dass Sie auch weiterhin über unsere Angebote informiert werden möchten. Sollten Sie in Zukunft keine Zusendungen mehr von uns wünschen, ersuchen wir Sie, uns ein Retourmail mit dem Vermerk "keine weiteren Zusendungen mehr" zu übersenden oder den Abmeldelink zu klicken.