Accommodation / Travel info
Accommodation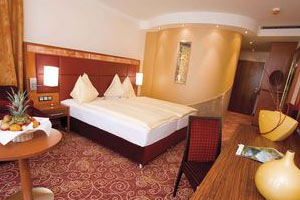 Arrive in time – enjoy your stay - relax at the starting line! Our B & B partners are located in Bad Goisern and vicinity. They offer great service and every imaginable amenity for your race preparation; most of them provide lockable rooms for your bikes! At some places you can take your bike even to your room.
Booking of a room
Upper Austria's Touristik
Freistädterstrasse 119
A 4041 Linz/Donau
Phone: +43 (0)732/7277-277
Fax +43 (0)732/7277-210
e-Mail:
Internet:
www.trophy.at/rooms
Hotel Shuttle
From Obertraun, Hallstatt and Gosau there will be a shuttle service to the start in Bad Goisern for only 5,- Euro per person - bike transportation is for free!

Attention! Please make sure to pre-book before July 12th in order to secure your seats, otherwise no guarantee! (Please send an e-mail with the names of the passengers, number of bikes, place of departure i.e. name of hotel and departure time as well as a mobile phone number to shuttle@trophy.at or call +43 (0)6135/8329.

With four persons or more a pick up from hotel is also possible! Passengers please be ready five minutes before departure otherwise the seats may be given to someone else! Return shuttle at the race day is available from the parking lot "Goisern Mitte" until 00:30am.




How to get to Bad Goisern
The Salzkammergut is located about 60 km east of Salzburg, and easy accessible by car or train. The train station in Bad Goisern is only 500 meters away from the marketplace where the race will start and where most of the festivities will take place.
> Train schedule

International airports are Munich/MUC (200 km) and Vienna/VIE (300 km) as well as the local airport in Salzburg/SZG (60 km) and Linz/LNZ (90 km). The Goiserer TAXI 4242 is providing a shuttle service from Salzburg Airport to Bad Goisern. phone: +43 (0)6135-4242, office@taxi4242.at